About Me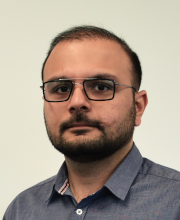 I am currently a graduate student at
Penn State CSE working with Professor Aasheesh Kolli.
Links:
Curriculum Vitae (Jan 2019)
LinkedIn
Github


Research
I am exploring design of practical and performant Disaggregated Memory Systems housing heterogeneous memory and compute units in modern datacenters.


Background
I am a technology enthusiast – intrigued by the utility, organization and implementation of everything with a digital heartbeat.
I have long been interested in bridging the hardware and software worlds. This has led me to pursue Robotics in undergrad, followed by developing low-level JTAG interfaces with embedded boards at Mentor – a Siemens Business (formerly Mentor Graphics), leading up to my current endeavor with Computer Systems and Architecture: exploring HW-SW co-design.
Food, travel, world affairs, movies and sometimes cars devour my attention occasionally as I attempt to attain some balance with non-binary side of things. (TODO: Consider if Quantum Computing should be in this list now)


Contact
Email: timran -AT- psu -DOT- edu 

Address:
W209 Westgate Building,
University Park, PA, 16802